With the inspiration to bring the colors of nature full of life into the house, through this blog, we wish to bring you summer ideas, with the green, combined with the products of Secoin, in order to inspire a green space, relaxing, like a summer house in the dream.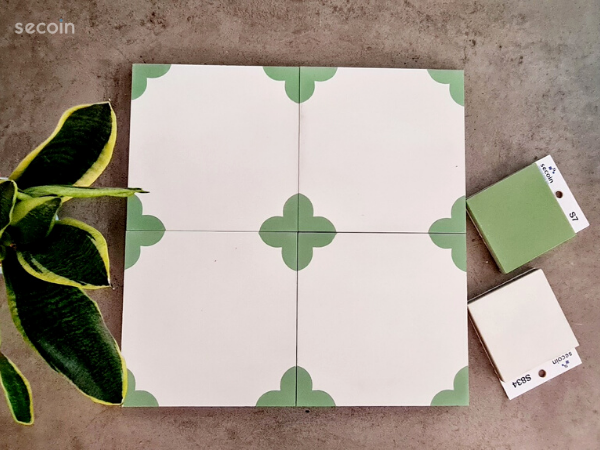 Green is often accompanied with the white to bring out its brilliance and freshness
1. The Classic style with the green cement tiles
Green space is always favored by the restaurants, or cafes' designers, etc. because it creates a feeling of comfort, coolness, and full of nature, this is also the reason why green is always the choice of many shop owners and designers for the work. In those areas which full of light such as balconies, outdoor, the green color of cement tiles, artistic tiles, terrazzo tiles, is like adorning a perfect picture.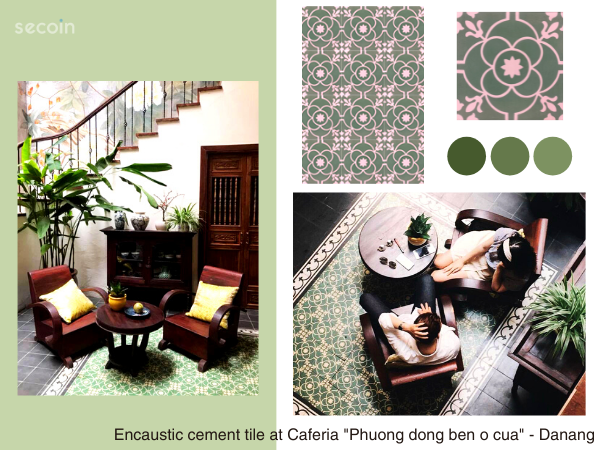 Not too much, just a small patch of the green cement tile makes the space extremely light

The beautiful design with green cement tiles greatly inspire some classic spaces of the cafes.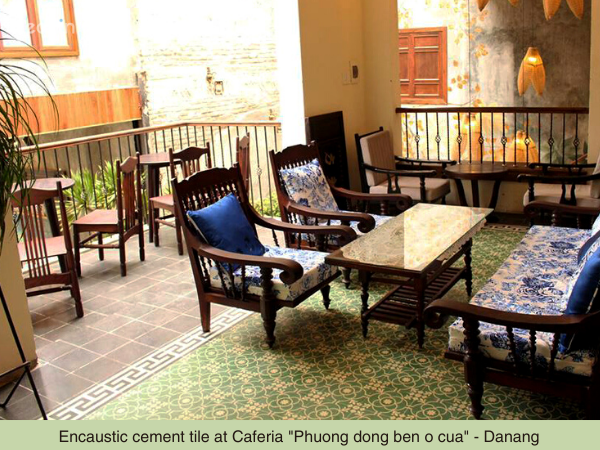 Not much, just a small patch of green cement tiles makes the space extremely light
At the center of the floor, the combination of the green and brown, black, and wooden utensils, creates a space that is both light and airy, and creates contemporary and sophisticated beauty, that is brought by the tile pattern and tile color.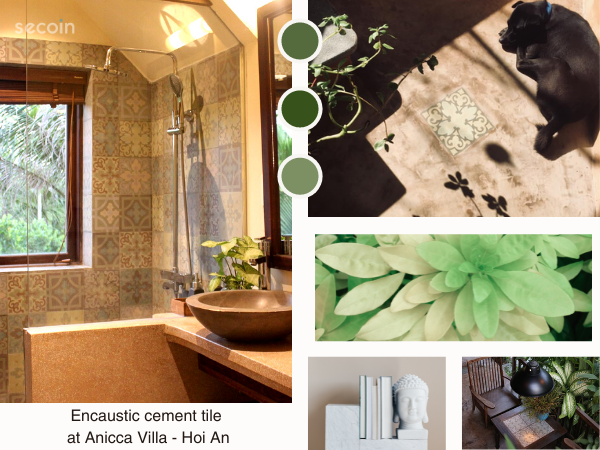 A living room with the green color at many levels around the room makes the room have a natural, ethereal character, not gaudy and heavily colorful.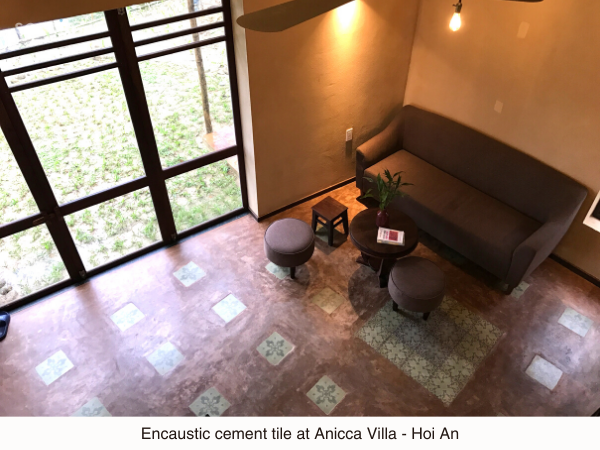 Rich green, mixed with blue, black will make the room warmer and more elegant

In addition to the patterned cement tiles, Secoin also has an outstanding product of 3D cement tiles, with aesthetic lines on the surface, this is also a great suggestion for you if you are looking for tile patterns for your space.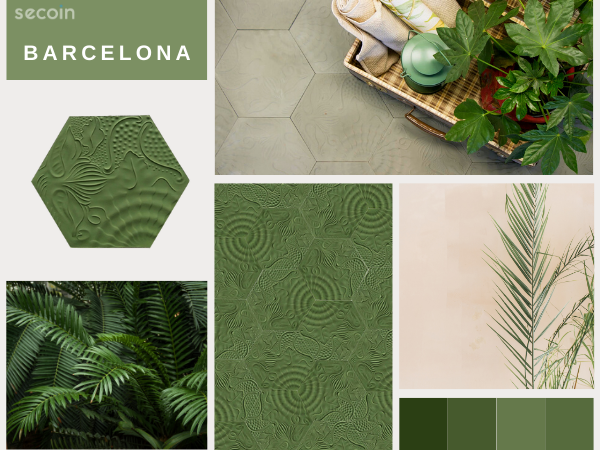 Because of those elements which is close to the nature, Green Cement tile or Green breezeblock are especially suitable for the spaces that have an open layout and lots of natural light.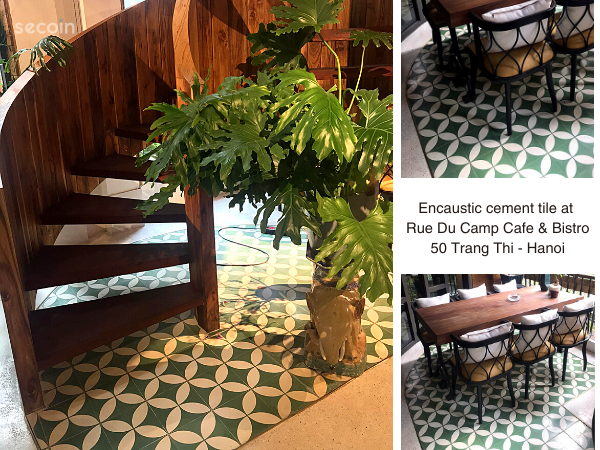 2. Interior style with the green terrazzo tiles
The aisles, the restaurant lobbies have a solemn color including white combined with rich green Terrazzo tiles and golden luster decorations. This combination creates a creative space with the eye-catching accents.
If you are a person who does not like the room is all white, or a color without any accent, and that will make you feel lifeless. Try to arrange the room in this way.


Terrazzo tiles combine with the green color of fancy and outstanding patterns
You can also make a difference with a multicolored encaustic Terrazzo tile floor that will make your room feel full of art. Great color combination from green, yellow, white, gray and red.

The Terrazzo encaustic cement tile TE6-647
In addition to Terrazzo encaustic cement tile products, interior Terrazzo tiles are also a trend should not to be missed. The smoothness in each green interior Terrazzo tile creates comfort, an eye-catching and attractive configuration, giving you a perfect space and easy to coordinate with colors such as gray, plain, beige-colored ….


The interior Terrazzo stone is meticulously inserted in each tile to make the interior Terrazzo floor become luxurious and eye-catching.

3. Minimalist and modern style with the green breezeblocks.
The furniture with a white sofa, a black table or a plantpot, these elements that help complete the room. A partition made of Green Breezeblocks on a white oak plank base, combined with cabinet materials, paintings or tables and chairs of the same color for a cohesive, modern and exact the minimalist look.

The breezeblock SVB 04 in green color

The doors in between the room which have a textured grid like breezeblock. They are used to protect part of privacy, but at the same time add lightness and ventilation between those rooms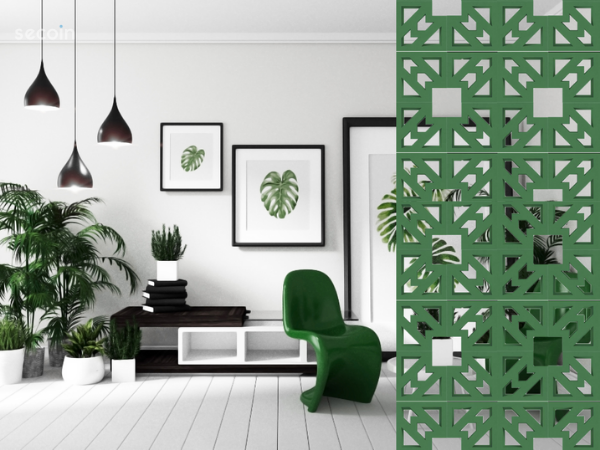 When if the office wants to direct to the outside, or ventilated to another room, you can take advantage of a green breezeblock partition. This only takes up about a third of the room space and allows light to easily move back and forth between the compartments without darkening both rooms. If you want more space for small houses, then those are the settings that these green blocks and partition give you.

4. Kitchen style with green wall tiles
Terrazzo wall tiles and cement tiles combine with built-in kitchen cabinets to create a harmonious approach in many layers. The green colors on the kitchen tile wall, you can adjust the brightness of the color, including its pattern, because that is very important to create an overall picture of the kitchen.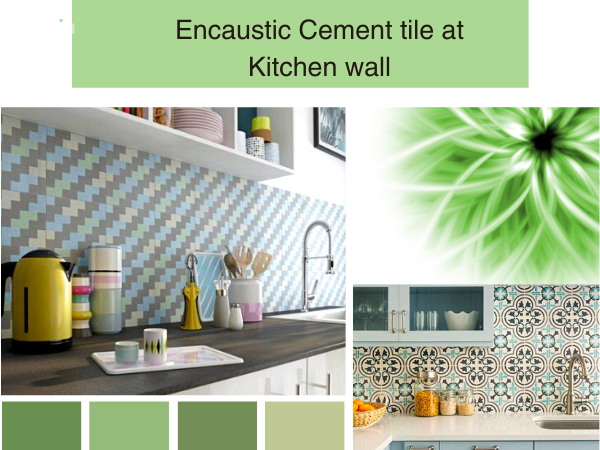 Because green is such a color in nature, it tends to be neutral and blends easily with other colors around. You can make it look more beautiful by reducing the intensity of the green or customizing the right tone when combined with different colors.
5.Garden with the green outdoor tiles
A beautiful garden not only helps your family's building become more luxurious and impressive, but also creates spiritual values for family members.
Choosing green garden tiles will bring you to a space which is closer to nature. You can choose different colors of green tone from pastel green, dark green, etc. to adorn your garden with natural beauty, ethereal, not much gaudy .

In addition, you can also vary and be creative with cement tiles to create decorative cement tile flowerpots for your garden. The green flowerpots will definitely be a special and interesting highlight for your garden.

Hopefully, through this article, you have found suggestions for your home space with green. You can also refer to more Secoin products here!
You can download the collection here.