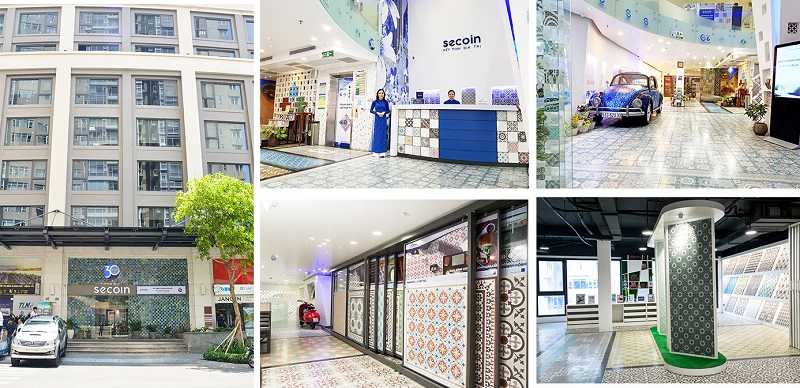 Secoin Artistic Tile Showroom in Hochiminh City is the largest and most diverse concrete and cement tile showroom in the South of Vietnam. Secoin Showroom is the place where one can find various design art from classical to contemporary, where the Western and Eastern styles meet.
"Always original!" is a criterion for Secoin's Artistic Tile products. Therefore, Secoin showroom displays the latest high-class artistic tile designs in the market developed by Secoin's R&D teams and designers in Vietnam and worldwide. Secoin's showroom is the world of concrete and cement artistic tiles with a wide range of products for interior and exterior decoration: From indoor tiles (such as high-grade encaustic cement tiles, encaustic pottery tiles, interior terrazzo with various patterns and colors), outdoor paving products (such as outdoor artistic tiles, interlocking pavers, stamped concrete), roofing products (such as high-quality concrete roof tiles of different shapes and unique design) to wall products (such as decorative ventilation blocks, concrete blocks) and many other decorative applications.
You are an architect looking for design ideas for your work? Welcome to Secoin showroom to create creativity and express your unique ideas in our bespoke products!
You a developer or contractor looking for materials for your project? Welcome to Secoin showroom to choose from thousands of available designs created by famous designers in the world!
Or you are simply looking for decorative tiles for a restaurant, hotel, cafe or even a small corner in your house? Welcome to Secoin showroom for getting advice and choosing the right product!